The Possibilities are Endless
Slide Into
TeamSlidez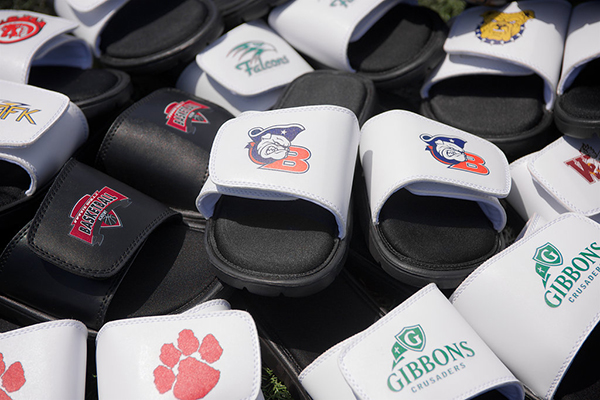 TeamSlidez are affordable, customizable and comfortable team athletic footwear. Similar to Sandals or Flip Flops, TeamSlidez are adjustable and often worn with socks. Remove your expensive sneakers/spikes and slip into the comfort of TeamSlidez after practices or games.
TeamSlidez can be customized in 3 locations – (top and outside of each shoe) Add your Team logo, player's name, player's number and team nickname to create team unity and spirit.
Request a Free Customized Mockup
of your TeamSlidez before ordering!
Ideal for All Sports & More
Z
Schools
Z
Associations
Z
Leagues
Z
Clubs
Z
Youth Teams
Z
Organizations
Z
Cheer/Dance
Z
And More
Bill Witherspoon, NJ
"The TeamSlidez staff was great and easy to work with. A quick turnaround helped us get our team equipped for travel season. A quality product at and great price. Our team loves them."
Mike Kurtz, MO
"A fun addition to our team player pack. Something cool and new that helped unify the team."
Valerie Jenkins, FL
"Extremely affordable and comfortable. The customized top and sides make the players feel special and creates school pride."
Steve Anderson, NC
"Great product for our Football program. We used it as a fundraiser and also to create spirit for the program. Great addition to preserve expensive spikes and sneakers."